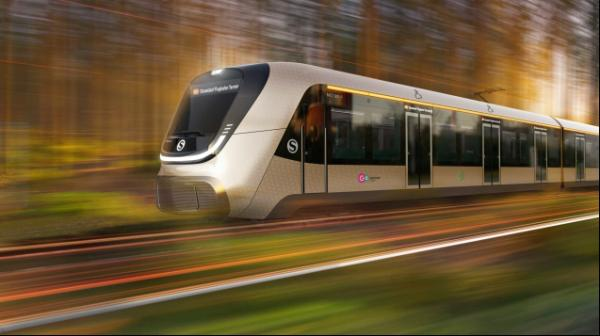 EIB Board of Directors November meeting approves €3.3 billion for transport projects
Another €3.1 billion for business investment and corporate innovation, €2 billion for energy and water, and €550 million for urban development also approved
€450 million to support Ukraine reconstruction
EIB Board takes stock of roadmap to support €1 trillion in green investments by 2030
The Board of Directors of the European Investment Bank (EIB) today approved €9.3 billion of new financing to support sustainable transport, corporate research and development, impact focused business investment, water and urban infrastructure in Europe and around the world.
This includes new support for reconstruction of schools, hospitals, bridges and water infrastructure in Ukraine expected to be supported through the EU for Ukraine Fund.
"We today agreed on significant investment that will strengthen Europe's competitiveness. In addition, our new support to Ukraine will help to rebuild the country's destroyed infrastructure and to alleviate the hardship that Ukrainians face because of Russia's invasion," said Werner Hoyer, President of the European Investment Bank. "And while in two weeks world leaders will gather in Dubai for COP28, the EIB confirmed progress in meeting its target to support €1 trillion of climate investment by the end of the decade and agreed to back new investment to enable business and households to reduce energy consumption and increase use of renewables."
EIB Group Climate Bank Roadmap
The Board of Directors of the EIB also approved the mid-term review of EIB Group's Climate Bank Roadmap. This stock-taking exercise provides an update on the EIB Group's progress towards the headline objectives of its pioneering roadmap while taking into account regulatory and market developments. The Climate Bank Roadmap 2021-2025 was adopted in 2020 to operationalise the EIB Group's ambition as the EU climate bank and to step up its support for the European Green Deal and a just transition to low-carbon, climate-resilient and environmentally sustainable development worldwide.
The Roadmap commits the EIB Group to support €1 trillion in green investments by 2030 and align all its operations with the Paris Climate Agreement. In addition, the Roadmap sets a target that at least 50% of annual EIB financing will be dedicated to climate action and environmental sustainability by 2025 and beyond. The mid-term review confirmed that the EIB Group is on track to meet all these targets. EIB climate action and environmental sustainability financing reached 58% of total financing in 2022.
Since the Roadmap was adopted, the EIB Group has responded to Russia's invasion of Ukraine and the subsequent energy crisis with a reinforced commitment to the green energy transition. In July 2023, the EIB Group increased by 50% its REPowerEU support package initially approved in October 2022 (to €45 billion from €30 billion). The aim is to support €150 billion in investment by 2027 to accelerate the green energy transition in Europe, strengthen energy security and boost innovative technologies, including in state-of-the-art manufacturing and critical raw materials needed for the net-zero economy.
Improving sustainable transport
The approved €3.3 billion for new transport investment includes backing the expansion of the Madrid Atocha railway station, including the construction of a new underground pass-through station and acquisition of new rolling stock for the Madrid metro network, as well as a new road and rail tunnel to ease traffic congestion.
The EIB also agreed to finance new trains for the Cologne regional rail network, upgrade trains and lines in south-western France
Corporate innovation and business investment
The EIB approved €3.1 billion of new financing to support corporate research and development, as well as business investment.
This includes backing to accelerate electric vehicle component innovation, development of electric vehicles and new software for electric vehicles.
The EIB approved financing for development of an innovative, first-of-a-kind commercial size plant for recycling vanadium waste from steel production in Finland and Sweden and thus reducing the need for mining and landfill. Research and development of solid-oxide electrolysers in Germany, which is essential for increased hydrogen production for industrial use, was also approved alongside digitalisation of pharmaceutical production in Romania and specialised industrial engineering in Spain.
New support for business investment, including improving energy infrastructure, agriculture, digitalisation, and innovation, was agreed with financing partners in Croatia, France and Italy.
The EIB backed new long-term financing for business investment and financial inclusion to strengthen economic resilience in Moldova.
Dedicated support to improve access to microfinance by micro-businesses in Uganda owned by women and in rural areas was also approved.
Investing in energy and water
The EIB backed €2 billion of new energy and water investment across Europe and around the world.
This includes financing renewable energy and battery energy storage projects across Greece, Italy, Poland, Romania, Spain, Ireland and Bulgaria and commercial-scale geothermal innovation, and streamlined financing for district heating in Spain and small-scale onshore wind and solar in Germany. The EIB board also approved financing of new investment to improve nuclear safety in Romania.
New investment to improve access to electricity by 750,000 people living in rural communities in northern Cameroon by construction of more than 2,000km of new networks and hundreds of new substations was agreed and support for small scale sustainable energy schemes across Rwanda and Bhutan approved.
Investment to modernise water supply and sewage services in Belgium, German and Brazil was also backed.
Rebuilding Ukrainian towns and infrastructure
The EIB approved €450 million of new support for priority recovery investment in Ukraine impacted by the war and new streamlined financing for critical water infrastructure.
The latest EIB backing for Ukraine includes €250 million for essential services for internally displaced people, including construction and repair of social housing, district heating, hospitals and schools, roads and bridges across the country. In addition, €200 million will be used to restoring vital water supply systems in areas affected by the war, improving access to water services and to centralized, wastewater collection and treatment services.